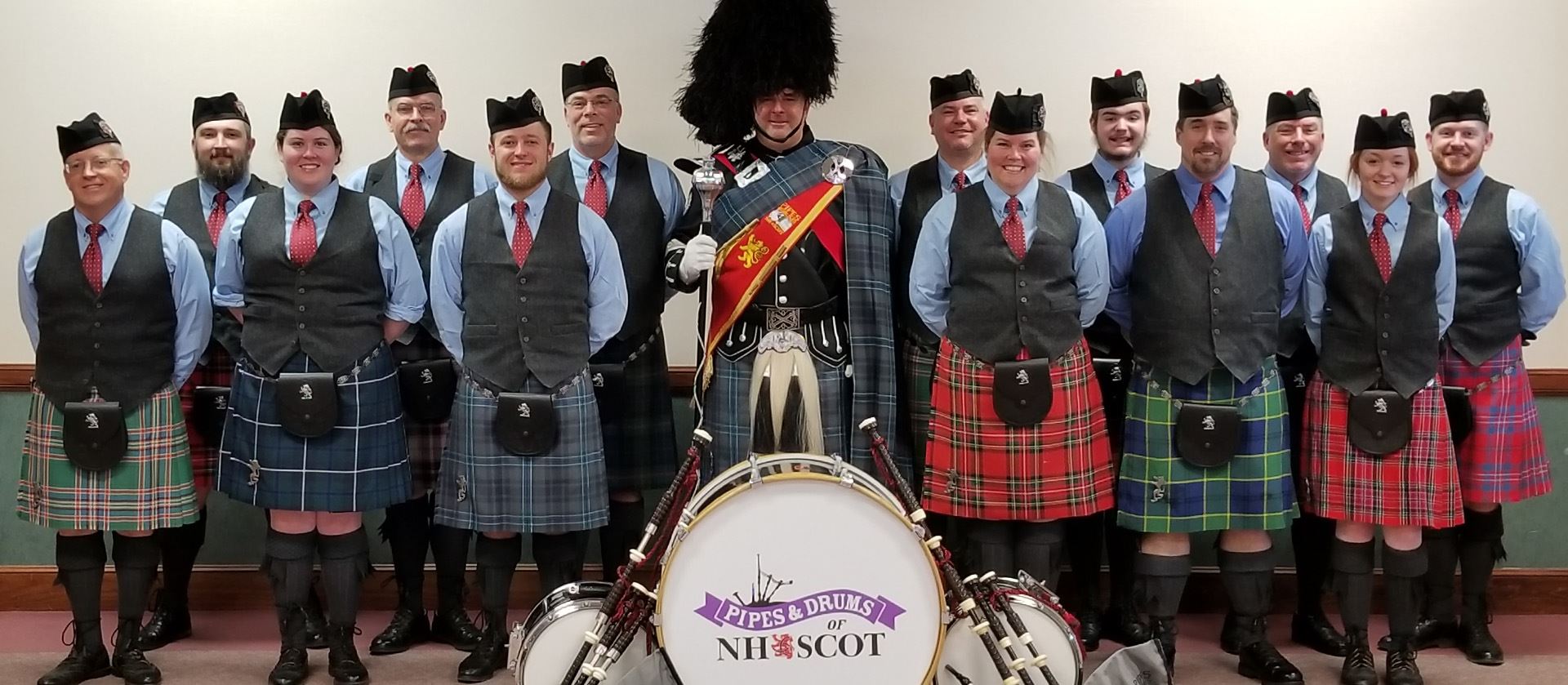 PIPES & DRUMS OF NHSCOT
OUR MISSION
To help build the next generation of pipers and drummers in support of our mission to preserve and promote Scottish culture for future generations. The Pipes & Drums of NHSCOT will further the advancement of Scottish culture by introducing the tradition of Highland Pipe Band to communities through performance and education.
HISTORY

Founded in 2018, The Pipes & Drums of NHSCOT follows the model of traditional Scottish pipe bands which are sponsored and supported by local businesses and their community. NHSCOT will manage the band and offer stability and a built-in infrastructure. Gibson Bagpipes has partnered with NHSCOT for this venture and will offer years of experience in band management and equipment needs. The band will serve as NHSCOT's duty band and will perform at our NHSCOT events.
The band's leadership will focus on education, education, education –supporting NHSCOT's mission. Initially, the band will be a multi-generational, inclusive band which will perform in three to four parades a year, and a similar number of competitions as well as special events. Elite competitions will not be a focus. Competitions will serve to sharpen the skills of band members and allow them the opportunity to offer Try It classes to the attendees of the Games where they are competing.
The group leading this initiative came together to fill a need for more bands and stronger musicians in the Northeast. The Pipes & Drums of NHSCOT strongly supports NHSCOT's mission to preserve and promote Scottish culture. Education will be a key component of NHSCOT's future.
Goal
Within 3-5 years, our long-term goal is to partner with a school to develop a teaching program for piping and drumming, as well as to establish a youth pipe band. As students develop, they will become members of the regular pipe band to be fostered by more experienced band members. Once enough students are ready, a youth pipe band will be formed and will focus on more elite competitions and improving as musicians as well as being ambassadors for NHSCOT.
JOIN US / LESSONS

Founded in 2018, the Pipes and Drums of NHSCOT, is a 501 (c)(3) non-profit group created to preserve Scottish heritage and to educate the general public in piping and drumming. We perform at private and public functions and instruct those interested in piping and drumming.
Being in a pipe band can quickly become a life-long passion. Come join us in making music, growing as musicians, creating strong friendships and lasting memories and in being goodwill ambassadors for NHSCOT and its mission.
The Pipes & Drums of NHSCOT is looking for new students! Come join us and learn the music and techniques of pipes or drums while celebrating the rich history and traditions of Scotland. Our classes are inclusive and customized to suit the ages and skills of each participant. Whether you're an experienced piper or drummer or are ready to learn a new instrument, we welcome everyone to join The Pipes & Drums of NHSCOT. Beginner classes will be led by instructors teaching students of all ages.
2023 Beginner Class Start Dates:
There are two sessions, Spring and Fall which meet weekly. (Approximately 24 classes per session)
Classes are taught each Monday at 25 Triangle Park Drive, Concord, NH.
Spring Session: April 3 – September 25, 2023 (No lesson on Memorial Day)
Fall Session: October 2, 2023 – March 5, 2024
Class Times: 6:00 – 7:00pm
Register Now
PRACTICE SCHEDULE

The band practices weekly. Practices are held on Monday evenings with beginner instruction from 6:00 PM and band practice from 7:00 PM – 9:00 PM. Practice is held at NHSCOT's offices located at 25 Triangle Drive, Concord, NH. If you are interested feel free to visit during any of our rehearsals or contact our leaders. Please note this schedule is subject to change without notice.
HIRE US

The Pipes & Drums of NHSCOT are available for hire for parades. Hire the entire band or mini-band who are outfitted in traditional Scottish highland dress, including kilts to add a memorable moment to any event.
We do not participate in any political rallies or fundraiser for any candidate or party.
For information on booking the band, please fill out the form linked below.
Hire the Band
BAND LEADERS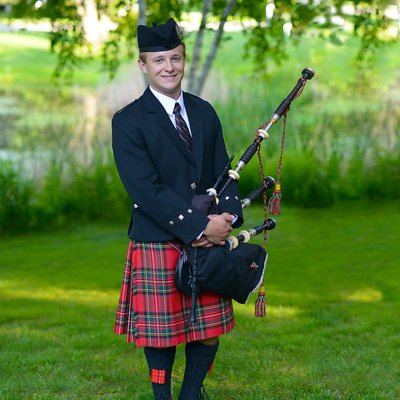 Eryk Bean, Pipe Sergeant: [email protected]
Pipe Sergeant Eryk Bean began bagpiping at 5 years old. He is an accomplished Grade 1 Piper who has played with multiple bands in New England. He has traveled to Canada and Scotland on multiple occasions to play in both the North American Pipe Band Championships and the World Pipe Band Championships with the Stuart Highlanders Grade 1 Pipe Band. He is also the Quality Assurance and Product Development Technician at Gibson Bagpipes LLC.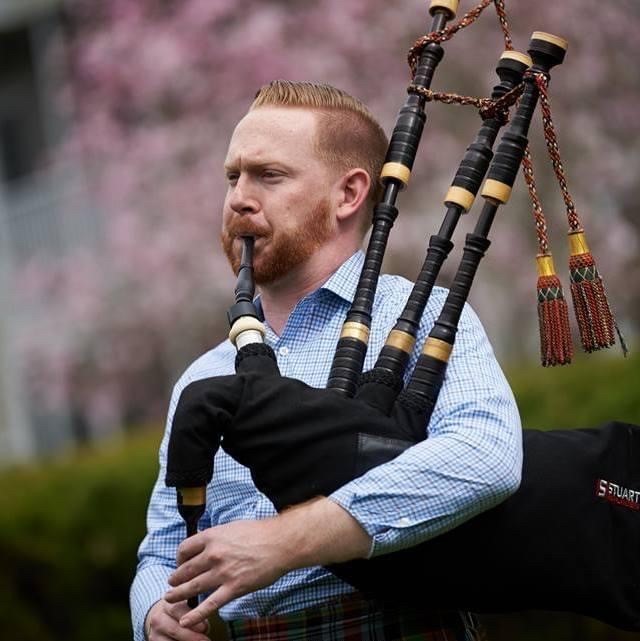 Elliot Smith, Pipe Major: [email protected]
For over 18 years, Elliot has been a competitive bagpipe performer and plays at the Professional-Open level. At an early age, he found his true musical love after hearing the Black Watch Pipe Band perform in Concord, NH. They inspired him just after his tenth birthday to become a student of Lezlie and Gordon Webster, renowned teachers of the Great Highland Bagpipe. Mr. Webster, former piper for Queen Elizabeth, ensured Elliot's love of the pipes with a trip to England and Scotland where he met the new Queen's piper in London, visited piping schools and toured Edinburgh.
Elliot was introduced to Ed Neigh, a top instructor from Canada who began Elliot's classical training. Elliot has also studied under the direction of Jimmy McIntosh, Donald Lindsay, Gold Medalist Jimmy Bell and Gold Medalist Willie McCallum. These instructors are some of the best in the world and through them Elliot can trace his piping lineage back to the original bagpipers in the Isle of Skye. Elliot continues to teach students locally in NH and MA.
Expanding on his classical training, Elliot toured with the American Rogues in 2014.They are a world-famous Celtic Rock band that has been together for almost 20 years. With them, he headlined shows in New York City, Atlanta, Boston and Detroit. Together, they also performed in Maryland, Delaware, Michigan, New Hampshire, Washington DC and the Royal Nova Scotia International Tattoo in Halifax. Few other bagpipers can assert that they have accomplished the same thing and with such success.
Elliot has also performed at the J.F.K. Library (Boston, Mass), Museum of Civilization (Ottawa, Quebec), The Governor's Mansion (Little Rock, Arkansas), Fenway Park (Boston, Mass), Walton Arts Center (Fayetteville, Arkansas), the Amy E. Dupont Music Building (Newark, Delaware), the Tsongas Center (Lowell, Mass) and the New Hampshire State House (Concord, New Hampshire).Elliot has also played several shows with the international acclaimed band, The Chieftains, and with the world-famous Celtic musician, Carlos Nunez.
Elliot continues to teach and perform with other bagpipers, world-class organists, fiddlers, guitarists and accordionists around the world. His repertoire includes a variety of traditional and modern Scottish, Irish and Breton-styled music. He currently plays with the Worcester Kiltie Pipe Band in Massachusetts and teaches the Pipes & Drums of NHSCOT band in New Hampshire.
Ewen Conant, Drum Sergeant: [email protected]           |          General Band Leader Contact: [email protected]
DONATE

Thank you for your interest in supporting the band through your generous donation. As a newly formed entity, the Pipes & Drums of NHSCOT uses donations received to continue its mission to preserve and promote Scottish culture by educating the general public in piping and drumming through Try It opportunities and the long term goal of forming a youth pipe band, along with helping to instruct, outfit, and equip band members.
Your generous donation directly impacts our ability to continue our mission to build subsequent generations of pipers & drummers to preserve & promote Scottish culture for future generations.
DONATE
PARTNERS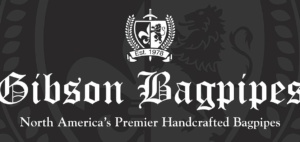 Gibson Bagpipes has partnered with NHSCOT to start the Pipes & Drums of NHSCOT. This partnership offers the band stability and built-in infrastructure.
NHSCOT is grateful for their enthusiasm and support of preserving and promoting Scottish culture and in this endeavor to create a band to educate the general public in piping and drumming associated with Scottish and Gaelic culture.