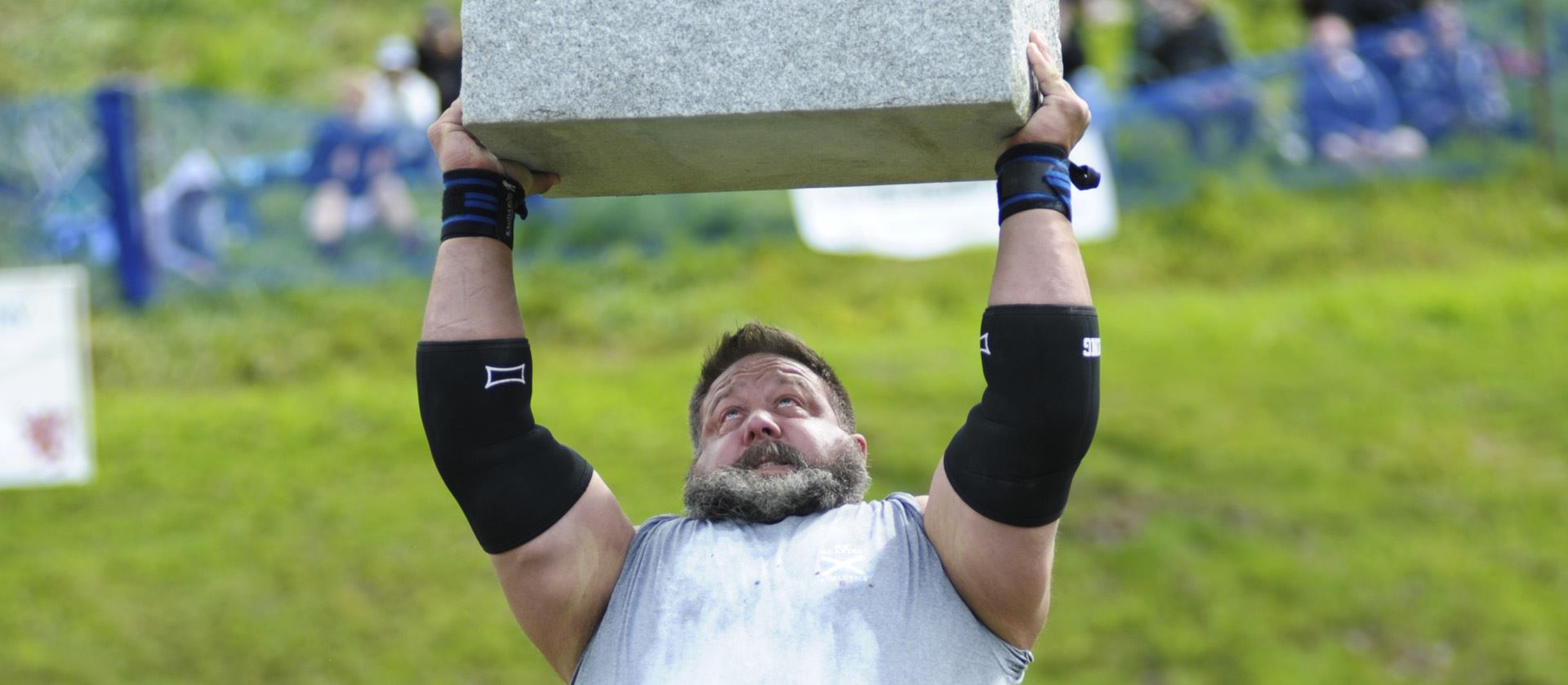 HEAVY ATHLETICS
2020 posed its challenges but the New Hampshire Highland Games came roaring back in 2021. The Heavy Athletics competition did not have international athletes but did have the 2018 and 2019 Scottish Heavy Athletics champions competing with a strong field of professional throwers.
Saturday, September 18
Day one highlights of the Pro competition included a new field record on extra throws of 47' 5.25" with the 56 lb weight for distance by the 2019 World Champion Spencer Tyler. The field of Chuck Kasson, Jeff Kaste, Nick MacPhee, David Barron and Will Barron were however in hot pursuit of Spencer. The Pro caber competition ended in exciting fashion. Spencer Tyler appeared to have won the caber with 2 turns of the 135 lb and 19 foot long caber in the first 2 rounds with a best toss of 11:00.
In the third round, Spencer did not turn the caber and in the next to the last toss of the caber competition Nick MacPhee of Maine had a dramatic 12:30 turn then vaulted into a back flip! With one last attempt left in the caber, 2018 World Champion Chuck Kasson exploded with a 12:30 turn with the caber and edged out Nick on count backs! At the end of the day however, Spencer Tyler had a comfortable lead in the overall standings.
Sunday, September 19
The day started with a very strong field for the 2021 New England Heavy Athletics Amateur Championships. Justin Gagne won 6 of 7 events, including a clutch 3rd round 12:00 turn of the caber. The field of Tony Trapanese, Ron Remeika, Chris Sickler and Daven Brigham pushed Justin the whole way!
Also on Sunday, day two of the Pro competition concluded with Spencer Tyler winning the overall competition and the coveted D'Amante Award. Spencer also won the Challenge Caber.
Eric Dawson, our resident Pro Strongman from Massachusetts included feats of strength outside of the Heavy Athletics competition for the enjoyment of those in attendance. Eric completed an easy Log Press of 330 lbs on Saturday and on Sunday he won the historic extra event, The Loon Stone Carry, with a distance of 132' 6" on Saturday, very nearly breaking Hafthor Bjornsson's record of 140'6".
David Barron tied with his brother Will in the overall competition and in dramatic fashion left his throwing shoes on the field in retirement after a long and distinguished career as a world class Scottish Heavy Athletics Professional.
A great weekend of Scottish Heavy Athletics competition as only the New Hampshire Highland Games can do, with many more years of exciting competition to come!
2021 Professional Heavy Athletics Competition Overall Results
1st Place – Spencer Tyler, 9 points
2nd Place – Chuck Kasson,19.5 points
3rd Place – Nick MacPhee, 21.5 points
4th Place – Jeff Kaste, 23 points
Tie for 5th Place – David Barron and Will Barron, 37 points
2021 New England Amateur Scottish Heavy Athletics Championships Overall Results
1st Place – Justin Gagne
2nd Place – Tony Trapanese
3rd Place – Ron Remeika
4th Place – Chris Sickler
5th Place – Daven Brigham