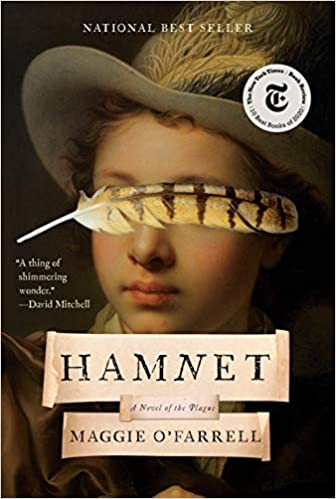 Scottish Bound: The NHSCOT Book Club – Hamnet by Maggie O'Farrell
Our fourth and final book club selection of 2021 is Hamnet by Maggie O'Farrell. We will meet up on Zoom to discuss this novel about Shakespeare's son, Hamnet on Thursday, November 18th at 6 PM. Registration is free – you will receive a Zoom link shortly beforehand.  Register for the book club (if you registered for the Book Club once, you do not need to register again).
Register by copying and pasting into your web browser or clicking on the link here:
http://events.r20.constantcontact.com/register/regform?llr=tv9n7ljab&oeidk=a07eikwqtc9c827b106
A New York Times Best Seller*
*One of The New York Times 10 Best Books of the Year*
A New York Public Library Best Book of the Year
"Of all the stories that argue and speculate about Shakespeare's life… here is a novel … so gorgeously written that it transports you." —The Boston Globe
In 1580's England, during the Black Plague a young Latin tutor falls in love with an extraordinary, eccentric young woman in this "exceptional historical novel" (The New Yorker) and best-selling winner of the Women's Prize for Fiction.
Agnes is a wild creature who walks her family's land with a falcon on her glove and is known throughout the countryside for her unusual gifts as a healer, understanding plants and potions better than she does people. Once she settles with her husband on Henley Street in Stratford-upon-Avon she becomes a fiercely protective mother and a steadfast, centrifugal force in the life of her young husband, whose career on the London stage is taking off when his beloved young son succumbs to sudden fever.
A luminous portrait of a marriage, a shattering evocation of a family ravaged by grief and loss, and a tender and unforgettable re-imagining of a boy whose life has been all but forgotten, and whose name was given to one of the most celebrated plays of all time, Hamnet is mesmerizing, seductive, impossible to put down—a magnificent leap forward from one of our most gifted novelists.